Another of my concise guides, this time .....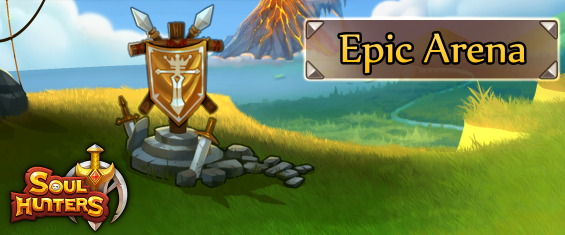 Unlocks at:
Level 60
My advise reach that level
as soon as possible
to start using this feature.
HOW IT WORKS

:

The epic arena varies from the standard arena in the following:
- You have to
win the best of three
. This means you need at least 2 full teams to compete, of course if you have a third team you will win more battles.
-
Coins are produced by minute in your current ranking
, the higher ranking the most arena coins you will produce per hour.
You can claim your produced coins whenever you want and exchange them for your soulstones.
TACTICS:
- As you need to
form 3 teams
, normally you will form and face this composition:
1. BEST TEAM
2. GOOD TEAM
3. WEAK TEAM
- The idea is to try to face your BEST vs their GOOD, your GOOD vs WEAK or your WEAK vs their BEST.
-
Don´t place your weak team in the visible spot
!
If you spot an enemy doing so, throw him in your first attack a team capable of getting the win and give your best in the 2nd and 3rd team.
- If you have lost against a team that you think you can win with a different team order, just take profit, adjust your teams keep refreshing until you can challenge that player again and take the win.
-
Modify and change your teams.
Swap not just where your weak team is, but also try swapping best and good so there is no fight the opponent knows how to win.
- Every day at 12:00 PM the system will send Arena Rewards to your in-game mailbox, you'll receive rewards based on your highest rank in either the normal Arena or Epic Arena.